The app is called Futurehome
You can now swipe between items in the bottom navigation bar.
Added Yale Doorman support for Yale doorman testers.
Fixed an issue where locks sometimes would not update status.
General improvements and stability fixes.
New bottom navigation and support for more than 8 shortcuts.
We added wattage as a sensor in automations. This requires a smarthub software update – see Automations below.
General improvements and stability fixes.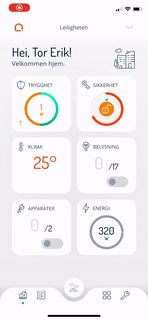 You can now control locks from the dashboard by holding the lock icon – this will control all locks.
Added haptic feedback to shading and climate tiles on dashboard.
Added ability to view and cancel existing ownership transfer.
Improved network handling between mobile and WiFi.
Improved app startup time.
Locks will now show open/close state on dashboard.
Playgrounds is named "Playground" in all languages.
General improvements and bug fixes.
First release.
Support for Playgrounds.
Support for Playgrounds.
Option to change fan mode and thermostat mode from Playgrounds menu.
Added report for power production.
Automations - tpflow 0.15.7
Added support for new Futurehome modeswitch.
Added support for wattage trigger in automations.